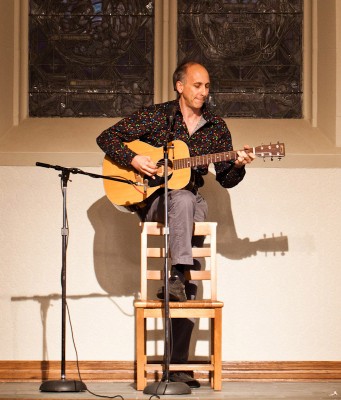 The intrepid músico is a walking poster-boy for the "follow your heart" life-philosophy. Rather than study his books as a freshman at New York University, he preferred to hang out with his grand mentor, folk singer Dave Van Ronk. The venerated cultural tour-de-force, Van Ronk, was a giant of the folk & blues revival, the avuncular Greenwich Village "Mayor of MacDougal Street."  Van Ronk was an extraordinarily influential artist, teacher and thinker who impressed a powerful weltanschauung on young Elijah (including teaching him the meaning of the word weltanschauung), and let's just say it wasn't your conventional 9 to 5 existence. Instead of finishing college, the inspired Elijah Wald went out into the wide world, living the life of an itinerant minstrel instead of reading about it in books. He busked all over Europe and traveled the world, evidently inspired by a musical wanderlust that has seemingly never ceased. Elijah Wald told this publication, "One year with Dave Van Ronk changed my life." No wonder. Tom Waits said about Van Ronk, "In the engine room of the NY Folk Scene shoveling coal into the furnace, one Big Man rules. Dog faced roustabout songster. Bluesman, Dave Van Ronk. Long may he howl." So there!
Apparently, nobody ever sat young Elijah Wald down to tell him what he can't do, what he can't think and what he can't challenge, so he just did what he felt like doing and the result is evident proof that you can live your life free from conventional wisdom and still have it all work out, provided you work hard. Perhaps it was the inspiration of his renowned father, George Wald, who Elijah describes as "…a biologist, one of the century's foremost investigators of the biochemistry of vision, and won a Nobel Prize for this work in 1967." Elijah went on the great things in his own right. He was the music writer for the Boston Globe and is today a successful writer, musicologist, and musician who is now working on his PhD at Tufts University, even though he never earned a degree since high school. Top that!
He has met, in his own words, "A whole world of people at the end of the blues scene" ; and, he makes his own argument as to why he should actually not be included in this directory. Elijah Wald declared his opinion about the state of the acoustic, folk and country blues, in the evident antithesis of the very existence of this website dedicated to folk blues in the 21st Century, by stating emphatically: "It's really over!"  This is a dismal state of finality which this publication is not quite ready to accept. Yet, when challenged, he readily admitted that there are numerous musicians today who are anything but over, so let's just compromise and say that Elijah Wald, who is not to be pigeonholed, has many other pursuits than the folk blues, but that his contribution to the genre is undeniable. His musical realm stretches from blues to Mexican narco carrido, from Bahamian guitarist Joseph Spence to African guitar music, which is exciting and stimulating. The adventurous, unconventional Mr. Wald may be on to other things, but the end-of-the-blues-world scenario seems greatly exaggerated. He got into the blues and other world folk roots music through the influence of his older brother's albums in 1963, digging into Joseph Spence, Mance Lipcomb and the treasure of American folk blues. It's not something you can ever shake off. As far as the demise of this genre, well, let's see.
As if one historically and culturally significant dream-apprenticeship was not enough for one lifetime, besides being a disciple of Dave Van Ronk, he played with the great bluesman and songster Howard Armstrong for five years. Among other things, Armstrong taught him to pay the "augmented chord." For those of you who do not know what that means, as this writer did not, the Guitarist's Online Survival Kit defines it as "The augmented chord is similar to a major triad, but with a raised fifth. Thus, the augmented chord is made up of two major thirds stacked on top of one another. Ex: C major consists of the notes C, E and G#." This is interesting because Elijah Wald reports that in the period of the blues-revivial when the musicologists sought out the original blues players to "rediscover" the lost great, they often "wanted the primitive and ignored the skilled, popular players who went unrecognized". Armstrong was one of them, according to Wald.
Elijah Wald is mostly a writer today, with numerous significant and widely acclaimed musicological books, and he also taught blues history at UCLA and, as said, he is working on his PhD. He now lives in Boston where he also performs in a swing and early jazz duo with his wife, Sandrine Sheon, who plays clarinet. Arguably, he is one of the great evocative and provocative thinkers of our time when it comes to contemporary musicology. He is not afraid to shake up conventions and shoo up some sacred cows. His eclectic excursions have included the definitive biographies of Josh White, "Society Blues," and the biography of Dave Van Ronk "The Mayor of MacDougal Street" a book which he cowrote and finished for his longtime mentor. The famed film producers, the Coen brothers, are now working on a project based on the book, which will likely reignite interest in both Dave Van Ronk and in the book. His revisionist "Escaping the Delta: Robert Johnson and the Invention of the Blues," his most successful seller, is now being translated into German. The accompanying CD "Back to the Crossroads: The Roots of Robert Johnson (Yazoo Records)" is a very cool counterpart to the book, remastered from original 78 recordings, and shows some of the contemporaries and precedents who apparently influenced Robert Johnson. This CD alone was an eye opener for many who had bought the age-old marketing of poor Robert Johnson without some healthy skepticism. The ensuing debate alone was a boost to the traditional blues, as he managed to emerge the genre from the dry confines of ethnomusicological academia into the mainstream.
Later, he published "Why the Beatles destroyed Rock 'N' Roll" and the "The Dozens: A History of Rap's Mama" in which Wald explores the African-American vernacular roots, which he describes as: "… the tradition of African American street rhyming and verbal combat that ruled urban neighborhoods long before rap. At its simplest, it is a comic concatenation of "yo' mama" jokes. At its most complex, it is a form of social interaction that reaches back to African ceremonial rituals. Whether considered as vernacular poetry, verbal dueling, a test of street cool, or just a mess of dirty insults, the dozens has been a basic building block of African-American culture."
His many achievements included a Grammy in 2002 for the excellent liner notes he wrote for the magnificent Arhoolie Records 40th Anniversary Box. He has also produced numerous blues anthologies and generally has a bio longer than this short profile can hold. All that, plus is a highly skilled musician; but, Elijah Wald described that due to his fame as a writer people did not know that he was also a player. So, just to set the record straight, he posted a series of YouTube films of him performing old blues, African music and other ditties, always with his own incisive pundit musical perspective.
Along with the other musician-musicologists, like Dr. Adam Gussow and Dr. David Evans, his contribution to the folk-blues entails the scholarly and the musical realm, and he needs to be mentioned in this directory, even if his current pursuits are focused on obscure New Mexico regional music – the subject of his current interest and forthcoming book.
PS. Some bibliographical details:
The German edition of "Escaping the Delta" is already out from Rogner & Bernhard, and is titled "Vom Mississippi zum Mainstream: Robert Johnson und die Erfindung des Blues." It is also available in Croatian, as "Bijeg iz Delte – Robert Johnson i povijest bluesa." "The Blues: A Very Short Introduction" has been translated into German, as "Der Blues: Eine kleine Einführung," and into Italian, as "Blues: Una breve introduzione." And the Van Ronk book just came out in German as well, as "Der König von Greenwich Village: Die Autobiografie."