Eleanor Ellis still carries a distinct Louisiana dialect of her home state, although she now makes her home in Maryland, where she has been a central part of the thriving mid-Atlantic Piedmont blues scene in and around Washington, DC. since 1976. She started playing in her early teens and had been a performing musician since the early 1970s playing upright bass and guitar in the roots music – folk and bluegrass. She was a member of two bluegrass bands, the Green Valley Cutups and Bill C. Malone's famed Hill Country Ramblers. As a student at New Orlean's Newcomb College at Tulane University, she frequented the Big Easy's famed French Quarter to pick up all she could from that vibrant music scene.
Her evolution into the acoustic blues burgeoned in the Maryland-Virginia-DC area, which has been one of the most fertile grounds for the post-blues revival scene. Eleanor Ellis was right smack in the middle of it during its most productive period.  Not long after arriving in the DC area, she delved into DC's famed Archie Edwards Barbershop scene, where she befriended and was mentored by the great Piedmont blues players such as John Jackson, John Cephas, and Archie Edwards.
She is today a celebrated master of the country and Piedmont blues, one of the most significant women in the acoustic genre, carrying on the music internationally in major festivals nationwide. She is a torchbearer especially for her friend, mentor and musical partner, blues & gospel singer and guitarist Flora Molton, with whom she recorded two albums " I Want to Be Ready to Hear God When He Calls", on  and "Flora Molton", recorded for Radio France.
"I met Flora Molton when I was asked to chauffeur her to the 1983 Oxon Hill Blues Festival that was put on by Myron Samuels. We hit it off and she actually asked me to play with her and to back her on guitar. Playing, touring and recording with Flora Molton, and having her as a personal friend, was an important part of my musical life. People like Neil Harpe, Archie, John Cephas, and John Jackson were also influential on me. It was a great time of getting better on the guitar and knowing these really wonderful people. Just knowing those people was great and musically they all had a big part in my development. But, playing with Flora helped to  form me as a musician as much as than anything. I played guitar with her from the early 1980s until her death. We had a great time together. It was a wonderful experience which I will never forget," she told thecountryblues.com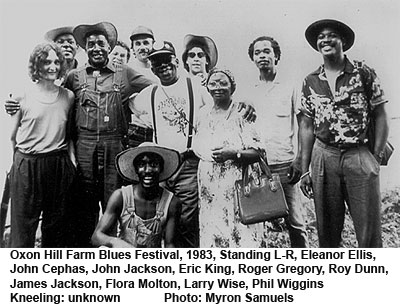 The bard does not just carry on the tradition of her partner, Flora Molton, but also for all the folk blues women blues singers like Precious Bryant, Elizabeth Cotten, and Etta Baker. The women in the acoustic blues today who continue the Piedmont and folk blues legacy are a small group: Rory Block, Valerie Turner, Valerie June, Mary Flower, Del Rey and Erin Harpe, to name a few. Eleanor Ellis has also accompanied the great folk blues players Eugene Powell and Jack Owens. Eleanor Ellis is active as a teacher with private students and in national blues workshops.
Eleanor Ellis sings with a rich, strong voice coupled with exquisite, refined guitar picking. This lady can sing. She told thecountryblues.com , "When a woman is doing a song which was originally done by a man she often can't just reproduce the original arrangement and guitar part because the vocal range and key may be different for her. This means that she will have to be creative and make her own arrangement of the song."  Somehow she manages to do it perfectly, performing on a virtuoso level with a joyous feeling. Not only does she have a wider repertoire of folk blues, but she plays it so beautifully and with such sheer mastery and truehearted feeling, the uninitiated listener will soon realize that she deserves to be ranked among the best blues women of our time, right at the table the Maria Muldaur, Rory Block and company.
Eleanor Ellis, a brilliant voice of the acoustic blues scene today, performs with varied musicians from in and around the DC area, including with Phil Wiggins, Rick Franklin, Bill Ellis, Andy Cohen, Neil and Erin Harpe and many others. She is in a duo with harmonica player Pearl Bailes called "Alligator Pears" a Southern term for Avacados , and a trio "Backporch Blues" with Eric Selby on percussion and Jay Summerour on harmonica.
Besides all the other activities, as performer and teacher, she was a founding member of the DC Blues Society and the Archie Edwards Blues Heritage Foundation. She is a published music writer. Notably, she is producer and editor of a superb video documentary "Blues Houseparty" which now takes an important part in the history of the Piedmont blues, as many of the featured artists have since passed.
(The video is narrated by Phil Wiggins).
She can play it all…Delta, Ragtime, Texas, Piedmont and more – and whatever she plays, she shines because she feels the music right down in her soul. Her latest album on the Patuxent label "Comin' A Time" aptly showcases her guitar prowess and strong, lovely singing in a collection of blues that cover the gamut of acoustics and pre-war styles.
One listen to Eleanor Ellis will lead to deep and permanent infatuation.