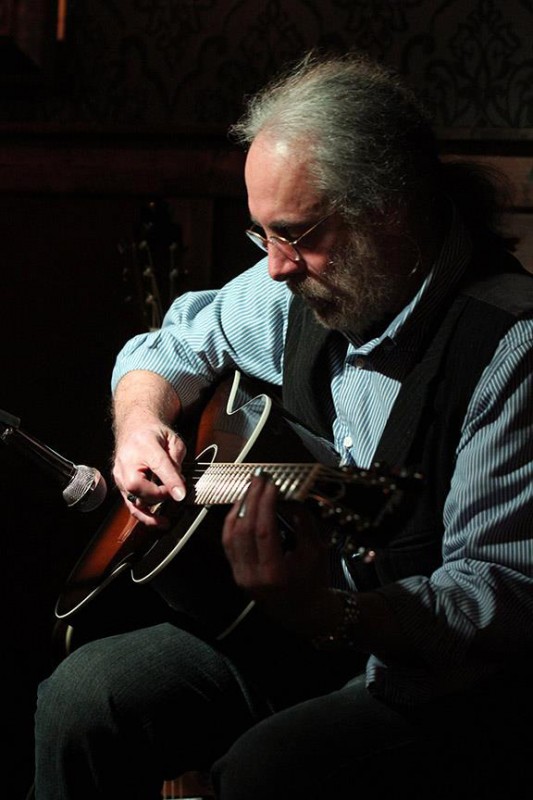 The traditional blues has a major proponent way north in Ann Arbor, Michigan. That's where Dr. Bruce Conforth, "Professor of the Blues" teaches American Culture with an emphasis on folklore, blues and popular culture at the University of Michigan. He had earned his doctorate in Ethnomusicology and American and African American Studies from Indiana University and has been a professor since 2001, because, in his own words, "It is important to pass on traditions." The multifaceted professor is at once interesting and unique, a man who lived unconventionally, with one foot in the 1960s counterculture and the other in successful academic and creative pursuits.
Among his many interesting and diverse experiences, he was one of the founding curators of the Rock-and-Roll Hall of Fame in Cleveland, Ohio. He is also a certified archivist, and involved in many more activities than this short profile can hold.
Foremost, he is a musician-musicologist, along with several other prominent academics who actively perform the acoustic blues they teach about, notably Dr. Adam Gussow of the University of Mississippi and Dr. David Evans of the University of Memphis. There are many blues writers, critics, historians and teachers, but only a select few have the distinction of also being highly respected as musicians. These three notables are first class bluesmen, even if they were never to speak or write another word about the blues.
Dr. Bruce Conforth was raised in Paterson, New Jersey, just 15 miles from New York City, which gave him the opportunity to be in the epicenter of the fertile early 1960s Greenwich Village folk and blues revival. "I saw Son House at the Gaslight Cafe in 1964 and he made my hair stand up. I used to hang out at Izzy Young's Folklore Center. We would mingle and hang out with the likes of Dylan, Dave Van Ronk, Harry Belafonte. Skip James and Mississippi John Hurt would play at the Gaslight." He defines his greatest musical attraction to be the rawness of the Delta blues by Son House, Charlie Patton, Mattie Delaney and Robert Johnson, and he took lessons from Rev. Gary Davis, who was of course not a Delta style player; but, nonetheless a huge personal influence as friend, mentor and teacher to the young Bruce Conforth. This time set the stage for a lifetime love and commitment to the blues, a passion that he would carry on as performer and scholar.
As a musician, Dr. Conforth has been performing the blues as a singer/guitarist for 45 years, having been an early proponent of traditional African American folk music in post-blues revival. He is a superlative blues and ragtime guitar picker and slider who recently played 2004 Martin sunburst 000-28EC, a 1998 Gibson L-00, a 1936 Kalamazoo KG-14, a 1933 National duolian resonator guitar, and a 2010 Blueridge 12 string guitar on his forthcoming album. He actively plays the summer festivals and gigs in between of his teaching and writing work. He also teaches the occasional blues workshop, and sometimes, but rarely, takes on music students. His musical contribution to advancing the traditional folk blues is immeasurable. His seminal 1976 album "Ragtime, Blues and Jive" with the fiddler Kenny Kosek issued under the pseudonym "Bates & Hawkins", with Bruce Conforth pretending to be "Josh Hawkins," stands as one of the great country blues albums. They actively performed on the East Coast including at venerable venues such as New York's Gerde's Folk City, The Bitter End and at outdoor musical festivals.
Dr. Conforth currently fronts a super-fun band, Jump Up Devil, a roots and blues string ensemble featuring the wonderfully skilled Anne Crawford on a Keith Hill violin with baroque and German bows, a Yamaha C7 grand piano, and a Hammond L111 organ with 147 Leslie, and vocals. Right away that combination is reminiscent of the great original country blues ensembles of the pre WWII era. While many of the recording from the 1930s imply that blues musicians mostly played solo, historically, we know that the ensemble was prevalent in live performances of the period, as groups of musicians had the volume and full sound that carried parties and events. Bands like the Mississippi Sheiks with fiddle were the mainstay of professional musicians, more so than the lone itinerant bluesman. This music has found new popularity with the phenomenal rise of the Carolina Chocolate Drops, among many others. J.T. "Harmonica Buzz" Sunden plays with tasteful eloquence on the album, rounding out the sound. The rhythm section also has a true feeling for the old time blues; Michael Shimmin plays percussion and Ben Rolston on bass.
They have a new album that is expected to be released in September. thecountryblues.com had the opportunity to preview the release, most likely to be self titled Jump Up Devil . Their version of "Another Man Done Gone," sparse with Conforth on slide guitar and Crawford singing in a mere whisper, is simply stunning and emotive. The new album covers some of the country blues greats, and some rarities and gems such as "Well, Well" by Kansas Joe McCoy; "Rattlesnake Blues" by Charley Patton' "Don't Cry Baby" by the obscure yet wonderful Freddie Spruell; "Bye Bye Baby" by George "Little Hat" Jones; and "On The Wall" by Louise Johnson, among others.
Jump Up Devil does not just keep the traditional blues alive. This album energizes the genre and revitalizes the traditional acoustic ensemble blues. The full band sound is so much fun and these musicians are having a blast. Look out for the new album in the autumn 2013.
Among his many scholarly works, Dr. Conforth recently published a new book "African American Folk Songs and American Cultural Politics" with Scarecrow Press. This book has just hit the shelves, with a recent book signing at the Delta Blues Museum on June 5, 2013. The author is already close to finishing what promises to be the definitive Robert Johnson biography, which is in finished manuscript form at the time of this writing. Dr. Conforth can be considered among the foremost scholars and experts about Robert Johnson. Among his many lectures and Now, according to Dr. Conforth, he and his student researchers have reviewed everything that has ever been said and written about Robert Johnson in books, magazines and journals. They looked at every interview that had ever been done with people who actually knew Robert Johnson, and compiled it all. Additionally, the personal research included a timeline of Robert Johnson's life including his early years in Memphis and how that shaped is life. As such, Dr. Conforth tried to get a broader understanding of Robert Johnson's persona than any previously published biography by exploring his formative years in-depth, for example, the fact that Robert Johnson was taken away from his mother at age nine from his adoptive family in Memphis and how he was brought to the plantation. This promises to be one of the most exciting blues books on the blues horizon.
Dr. Conforth is not just an important contributor to the continuation and preservation of the traditional folk blues, he is surely one of the coolest guys on the scene.