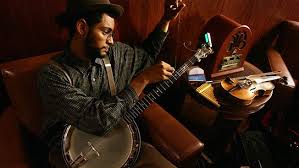 If anyone believes that traditional, roots & blues music is on the wane in America, rejoice and meet Dom Flemons, the truehearted, freewheeling, multi-instrumentalist, folklorist, self-taught musicologist and modern day "American Songster." As much a scholar as a performer, he came to prominence with the now famous ensemble of young troubadours, the Grammy award winning Carolina Chocolate Drops, of which he was a founding member along with Rhiannon Giddens and Justin Robinson. They won a GRAMMY for the 2011 album "Genuine Negro Jig" and were nominated for "Leaving Eden", in 2012.
Now on a solo track, the renaissance-man's recent successes have included a feature on the American National Public Radio (NPR), performing at the Newport Folk Festival; and, most importantly, making folk music relevant to young people in the 21St Century. He's been out the gate as a professional only since 2005, still a relative rookie, with huge acclaim and a long musical career ahead of him.
Some blues purists have noted that he is really a "folkie" because he plays old time folk, jug band, black string band and mountain music, and black banjo music from Appalachia. Because he carries on the obscure black string band precursors to the blues and does not necessarily repeat the same old 12 bar blues songs, they don't get him. Some folkies have conversely noted that he's really a blueser, because he is reminiscent of the rural African American traditions that are often outside of the predominately white "Folk" traditions, not as in folk music, but as in the marketing term coined in the folk revival of the 1960s. His answer to that is "Let it stay in the vaults if you can't improve upon it."
He doesn't care what anyone thinks. He will either lead you there or leave you behind. He will unabashedly delve into it all with gusto– blues, jug band, songster, jazz…with the boundless understanding that it all belongs and fits together. It's all interconnected. He understands the universality of music without external boundaries, and more than almost anyone today, he traces back African American music clear back to the root of field hollers, Negro spirituals and jigs.
Therein lies the beauty! This is American music at its best. Flemons is a proud young musicianer of African American and Mexican heritage, who approaches traditions with great respect, but who has emancipated himself from all the externally imposed delineations and limitations. Flemons unapologetically ignores conventions and he has freed himself to go his own way musically, adventurously and confidently . "I want to experiment rather than to merely replicate. It can never be as good as the original, so I make the music fit my own style. I look at the old time music, the originals of black banjo music for the Carolinas, the fiddle and the sounds of folks like Syd Hemphill, Henry Thomas and Pegleg Howell. I let this music inform me. It matters today. I want to remember it, to be referential to the origins but be inventive. I respect it. This is music with energy, the same type of energy that rock and roll and punk has. People are willing to throw the old stuff away. If you play this music and you do anything but amazing things with it, the audience will call it "quaint". I try to make good sounding music. That's all."
He's made the world circuit, played at Bonnaroo and the Grand Ole Opry. He's been all over Europe and he's just getting started. By now, he's one of the foremost advocates of traditional music, mostly in the black traditions. His blues draws from Popa Charlie Jackson and Hendrix, from Lightning Hopkins, Rev. Gary Davis, Josh White, Jim Jackson, Ma Rainey and Gus Gannon… but just saying that itself is irrelevant. This musician has absorbed everything he's ever heard, internalized and processed it somewhere in his vast musical cranium. He is a walking embodiment of musicology delivered in song.
Flemons hails from Phoenix, Arizona. His musical journey included playing percussion in his high school band. Like many musicians, he picked up the guitar and harmonica as a teenager, and played locally in coffee houses; and, he became a regular performer on the Arizona music scene as songwriter, performer, producer and slam poet. This aspect of the artist is an essential aspect of his musical being. He's not only a deep musicologist, but a powerful lyricist and an extremely intelligent, articulate and eloquent orator. An English major at Northern Arizona University, he performed in two national poetry slams in 2002 and 2003. (See this reference to learn more about this vibrant poetry form
http://www.poets.org/poetsorg/text/brief-guide-slam-poetry.
Flemons, stylish in his retro-chic garb, also understood that the 1960s era folk-revival musicians like Phil Ochs, Dave Van Ronk, Bob Dylan and Mike Seeger carried on the old traditions and he learned all he could from them. He also internalized all of the blues greats, such as Mississippi John Hurt, Howlin' Wolf, Alvin Youngblood Hart, along with the country based roots and rockabilly players like Hank Williams, Chuck Berry and Carl Perkins.
Flemons' foremost instrument is the banjo, an instrument of African American heritage that takes its roots back to West Africa. As one of the true heirs of the African American banjoists, he plays multiple styles including his own  devised from having studied the origins of the banjo clear back to slavery days. He is an expert at North Carolina black banjo traditions, clawhammer, tenor and three-finger styles of playing. Mike Seeger, one of the greatest musicologists of the banjo, had a profound influence on him. "Mike Seeger knew and understood the early black string band music and the wide range of banjo styles. He helped me merge traditional music while maintaining my own integrity." Flemons plays a Deering 4 string banjo, a Gibson GB-1 6-string and a very rare and special, huge 1920s era Clef Club banjo.
Dom Flemons just released his third recording with the Music Maker Relief Foundation, Prospect Hill. Check it out.
The bard confidently told the countryblues.com "I am an impressionist", and no writer could find a better descriptive of the young renaissance man. Flemons is passionate, witty and musically playful. This guy has a burning desire to take traditional music into the future, with limitless creative and a strong-willed intellectual point of view. This combination makes him one of the most important and powerful young artists in America today. Keep your eyes and ears on the young genius.