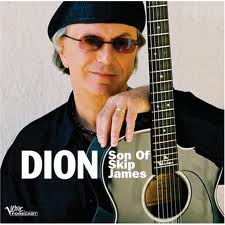 Surely some purist someplace will throw a fit for the inclusion of Dion on this website dedicated to the old time acoustic blues. Dion is the former teen idol and current roots rocker who had a string of big hits in the 1950s and 60s, like the Wanderer, Runaway Sue, Dream Lover, Ruby Baby, etc. Some of that will come with a dose of prejudice with the notion that an Italian guy from the Bronx could never be a "true" acoustic traditional bluesman. How can a big city slicker from the Italian neighborhood possibly play the blues? Maybe for the same reason that folks from England, Canada and for that matter, all over the world, have done it well. Not only that, Dion is still predominately a rock and roller and hardly a posterboy for country blues. So why include him? He was a major influence on Bruce Springsteen and Paul Simon, but how does that relate to traditional blues?
Easy! The old boy, a giant roots-rockstar to this day, a Rock & Roll Hall of Fame inductee, can play the traditional blues because he's done it since he was nine years old!
There are many attempts in the annals of folk music and blues when some big rockstar decided to grace the planet with an acoustic album, to mixed results, often to dismal failure. Not here. You can't fake the real deep roots blues. You either know it and feel it in your soul or you don't. The blues world is very uncompromising when it comes to that. Dion has always been a blues player. He learned the old time blues as a kid and kept it in his sound even when he was a teen idol and famed rock-and-roller. As a child he was already steeped in blues, country and doo-wop music because by traveling with his dad, a Vaudeville entertainer, he was exposed to that scene and he absorbed every note, incorporating it into his unique brand of early rock-and roll. Like all of his compatriots The Big Bopper, Buddy Holly, Ritchie Valens and all the great rockers of the period, his music was drenched in the blues.
Still, Dion, who is still idolized by many, especially in New York, surprised us all in 2007 with his release "Dion – Son of Skip James." Not only does Dion do the music justice, he is also a superlative guitarist, and of course we know he can sing. The album blows away many a lesser player with a better blues pedigree. Dion can sit on stage next to anyone, yes anyone, and rip out the traditional blues with true hearted feeling. His versions of Preachin' Blues, If I had Possession, Devil's got my Woman, Drop Down Mama, and I'm a Guitar King will pass the blind taste test with even the harshest doubters.
Not only that, but Dion has been an ambassador of the acoustic blues for his whole career. He is a feather in the cap of the traditional blues and a hero of rock and roll. Oooeee, that boy sure can play!
###
Nobody can forget that Dion and the Belmonts were part of the infamous "The Winter Dance Party" tour with Buddy Holly, Ritchie Valens, The Big Bopper (J.P. Richardson) and others. On February 2, 1959, after a concert stop in Clear Lake, Iowa, Holly and others decided to take a flight to the next venue rather than travel on the tour bus. Dion was invited to accompany the group but he could not afford the cost of the $36 flight, as it was the same monthly rent his parents paid for his childhood apartment and he couldn't justify the indulgence. The plane crashed, killing all aboard, including Holly, Valens and Richardson.