Article and photos by Frank Matheis 2017
Here is a guy you need to know about. He may be relatively obscure and not well-known yet outside of Chicago and around Washington, D.C. but he is one hot-shot country blues player keeping the old traditions alive.
The sharp-dressed Chicago based acoustic bluesman was one of John Cephas' friends and students. He swiftly carries on the Mid-Atlantic "Piedmont" country blues tradition, with a wide-ranging repertoire of fingerpicking and slide on both 6-string and 12-string guitar, but is also steeped in Delta Blues. He sings in a rich, ethereal tenor, with a light raspy falsetto, a blues voice right out of the book.
There are lots of paths to the blues and the notion that playing this music requires a lifestyle reminiscent of the Great Depression era is ridiculous. You don't need to be poor, destitute or rural to play the blues in the 21St Century. None of the current crop of major players in the genre fit that bill. So let's get it clear. Diamond Jim Greene is an educated man, a first-class player and a sophisticated gentleman, an ex-Marine Major who served his country for 10 years actively and another 15 in the reserves, and who is now a criminal lawyer in Chicago. Successful people are such because they work hard, put in the effort and have pride in what they do. So how does that lead to the blues? Simple: in the same way that a writer gets his source material from observing the world, the same way that a songwriter tells a story about the surrounding environment and people, a criminal lawyer is confronted daily with hardship, suffering and personal turmoil of both the victims and those accused of crime. Every day he is confronted with dramatic and dynamically powerful human forces of existentialist struggle, survival and raw emotion. When he sings Skip James' Prison Blues, count on the fact that he knows all about it, not by being there but by trying to keep people out of it, or seeing them go into it – day by day. If that's not fodder for a bluesman, what is?
His training as a US Marine instilled a sense of discipline and a get-it-done attitude. You don't get this good as a musician if you don't take it seriously and if you don't work really hard at it over decades. Musically, he has all the chops, as skilled of a player as any who do nothing but. The fact that he has a day job makes no difference. Some of the best blues players have day jobs to assure that they themselves avoid the true blues of poverty. Not everybody is willing or able to leave their families to hit the road. If he was touring he'd be a big and renowned player in the genre. As it is, he has managed to be both a successful criminal lawyer and a fierce musician and it's all good.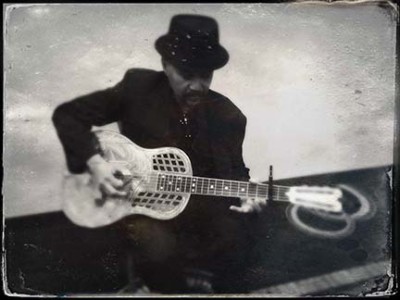 Thecountryblues.com met up with the bluesman in Chicago, and asked Diamond Jim Greene about his relationship to the late great Piedmont player John Cephas:
"John was – he was more than a mentor – he was a very, very close friend of mine. I met him back in the mid'80s. He was conducting a workshop over in Elkins, West Virginia, which just so happened to be the town my dad grew up in. John was holding a workshop at Blues Week. I had been playing for several years prior to that. John took me under his wing. And I met a lot of other great country blues players, Paul Geremia, Roy Bookbinder, to name two right off the top of my head, Phil Wiggins, of course. We became friends after that. After the workshop was over I was living in North Stafford County, which is about I guess 40 minutes north from where John was living in Caroline County, Virginia. He invited me down to his house, and I used to go down there quite a bit and we talked music and drank fine Scotch whiskey. John built his own house. He used to fish on the Rappahannock River, on the Chesapeake Bay and grew his own vegetables and was a pretty decent cook. I remember going down there on Friday night and not leaving until like Sunday afternoon, sometimes early Monday morning. It was all about music – playing music, listening to music, talking about music, talking about players, the cultural aspects of it, the therapeutic aspects of this music, trying to master that complex fingerpicking technique that he was so good at. I used to travel with him on occasion. I had the chance to play with him and Phil Wiggins at the Folklife festival in Washington, D.C. They were the stars of that event, and he called me up, and a couple other younger players, to join them on stage for a tune or two. And it was a great experience. Everything about him was just fantastic. I have great memories of him and Phil and the time I had with him… I've been playing in and around Chicago and in Europe for years now. I came back here to Chicago in about 1993-'94. I got on the Chicago Blues Festival for the first time in 1997. I started going over to Europe and playing in festivals and clubs beginning in about 1996. When I got serious about this music, around that time, around the mid '80s I met Archie Edwards and John Jackson through John Cephas.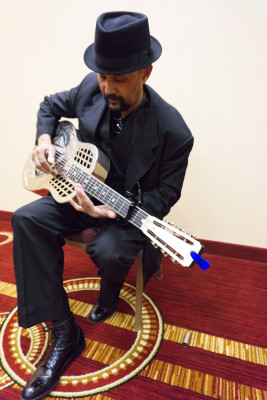 Right now the scene in Chicago doesn't really lend itself to a straight up country blues player. I incorporate other styles of music into my regular act – some country blues, a few jazz tunes, some original tunes, some Piedmont style blues, a little ragtime and some Delta blues."
You can catch Diamond Jim Greene in Chicago at Buddy Guy's Legends and the House of Blues on the Backporch stage. He frequently plays a brewery on the Westside called Lagunitas and every Monday night at Ward 8 in Evanston, Illinois. He has two recent CDs Holdin' On from 2007,  and Surrounded from 2012. He is in the planning stages for a new CD that takes him back to the roots of Piedmont and Delta traditional purist tunes.
He may be predominately local right now, but great things are coming from this unsung but superb player.