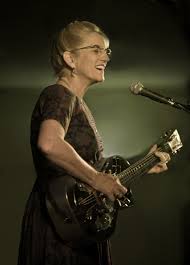 If you suddenly get a rush of deliverance because you think your teenager has finally caught on to the impeccable entertainment enjoyment derived from roots & blues music, when he/she enthusiastically declares, "Wow, Del Rey. I lover her so", think twice. There is an evil doppelgänger lurking in the pop world, and that maybe who your kids might be thinking, about, Lana Del Rey who absconded the name, and who would have thought there could ever be two? No disrespect to Lana, but the real Del Rey is a true musico, a guitar and ukelele virtuoso and a grand dame of the blues. In the roots & blues world, Del Rey is the one and only!
The fingerpicking bard's music infuses jazz, blues, ragtime and more into a blend of old time and traditional blues a la Memphis Minnie. Harmonica master Phil Wiggins refers to her as "One of the best guitarists anywhere and one of the best I have ever played with."
Del Rey, born in Los Angeles and residing in Seattle, favors metal body resophonic guitars and ukeleles, both of which she pays with exquisite virtuosity.
The stylishly blues diva is one of the reigning women in the blues, with a retro-chic, cool nerdy hillbilly-hipster vibe, frequently performs with Steve James, a slide player exraordinaire, with whom she recorded two duo albums Tonight (2004) and Twins (2002). The duo was established in 2001 at the Port Townsend Country Blues Workshop and it's a match made in heaven, with Steve Jame's intricate and expressive bottleneck slide guitar work perfectly complimenting Del Rey's fingerpicking. Steve appears on Del Rey's 2008 Blue Uke CD and Del is on Steve's Short Blue Stories.
She is one classy lady, a frequent music writer for various publications, including Acoustic Guitar Magazine, and she is a very popular instructor at numerous guitar camps and workshops. She has several instructional DVD videos and books on Happy Traum's Homespun teaching series, and she is highly popular on the old time circuit.
Both Bonnie Raitt and Maria Muldaur are professed fans. Del Ray and Steve James are beloved roots artists who have been a big hit at the King Biscuit Blues Festival. Merlefest, Waterfront Blues Festival and A Prairie Home Companion.
Listen to Del Rey and go back in time musically to the 78 rpm blues era and she will take you on an adventurous, perfectly satisfying journey to keep alive the old blues. Del Rey is one of today's most important women in the acoustic blues and ragtime music, and make no mistake about it, one of the best acoustic guitar and ukelele pickers, period.
It all started when Lou Curtiss, proprietor of Folk Arts and artistic director of the San Diego Folk Festival suggested that she should quit wasting my time playing "Stairway to Heaven" and listen to some Memphis Minnie. "He put me on stage with Sam Chatmon when I was fourteen, and introduced me to Lydia Mendoza and Howard Armstrong. Lou gave me recordings that still influence everything I do on solo acoustic guitar. I soaked up country blues, stride piano, classic jazz and hillbilly boogie. It was a musical education hanging around the record shop."
A wonderfully fascinating woman and one of our finest practitioners of old time fingerpicking guitar, Del Rey is a musical genius who, with a bit of nostalgic creativity, keeps the music fun, fresh and invigorating. Amazing stuff!