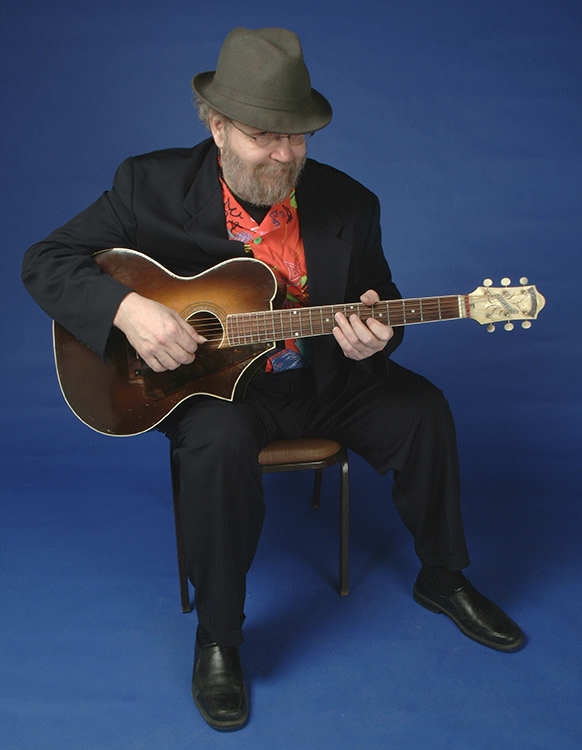 For more than four decades, guitarist Dakota Dave Hull, a resident of Minneapolis/St. Paul in the US State of Minnesota, has been criss-crossing the midwest USA, and touring the world, performing instrumental roots music. He's been all over Europe and as far away as Japan. A true American cultural treasure with a wide and vast repertoire that spans blues, ragtime, folk, jazz, country and swing and many other related genres, Dakota Dave Hull is one of the most important preservationists of acoustic roots music in America today, as well as a fine composer.
Dakota Dave Hull is a master guitar instrumentalist (he never sings), a walking musicologist, an accomplished flat-picker and fingerstyle player who is seemingly beloved by every music forum. To his credit, no matter whether which audience subgroup you talk to – folklore, blues, acoustic guitarists, they all love him and claim him as one of theirs. Perhaps it is because the delineation lines between all of these individual sub-genres is entirely artificial and most true music lovers know it. The songsters of the 1920s and 30s all played a diverse repertoire ranging from gospel and spirituals to pop music and beyond. The best description of folks like Dakota Dave Hull is "songster" in the traditional sense, but Dave calls it ' American Classic Guitar.' All good, but in the context of this forum, he fits like a glove, though he reaches far wider. Ultimately, it just comes down to a song, by itself, which either sounds good to your ears or not; but, make no mistake about it, this guy can play the blues as rich and deep as it gets.
A gentle, fluid player with a languid approach, he never just shows off technical prowess for its own sake, but is foremost tasteful, elegant, with a sweet sense of melody. He can play fast, he can play fancy, but he knows that less is more and musical beauty is more important than flashiness. He's from the "just right" school of instrumentation, who makes it look so easy. It's like watching a Japanese watercolor artist flow his brush over a sheet of rice paper. A few strokes, slow, deliberate and perfectly placed. What you get is a masterpiece with a few brushstrokes. It looks so easy, but if you try it at home you realize that it's anything but. The master took decades of practice with millions of brush strokes to make it look that easy, but it's actually the personification of perfection.
His nickname 'Dakota' traces back to his hometown of Fargo, North Dakota,  a small town in the cold plains of North Dakota better known for the Coen Brother weird crime movie, and the subsequent 'Fargo' TV series, than roots music. He picked up the guitar in 1960, spurred on by the burgeoning folk scene. By now he's pretty good at it. Dave van Ronk called him "the best guitarist in the world." That's a hard line to live up to, but unquestionably, Dakota belongs in the ranks of the very best in America today.
Interestingly, the virtuoso known for his colorful shirts, often Hawaiian, cites as a primary influence "… the one guy that really changed my life at the tender age of 23 or so was Ted Bogan. Ted played with Carl Martin and Howard Armstrong as part of, naturally, Martin, Bogan and Armstrong, 'the last of the old-time black stringbands.' Ted played those big chords that moved up and down the neck behind Carl and Howard's lead work, or behind the vocals. He was the glue that held everything together and made their sound work."
The renaissance man is also a radio colleague who hosts the famous "The Dakota Dave Hull Show" on KFAI Radio: 90.3 FM & 106.7 FM · Minneapolis · St. Paul. He is a also producer and owner of Arabica Studio in Minneapolis, with a specialty in recording acoustic music, where he has recorded Paul Geremia, for example, among many others. He teaches guitar workshops and has an instructional book of ragtime with tablature titled "Ragtime Guitar in the Classic American Style." Dakota Dave Hull is a first rate arranger and preservationist of old classic tunes, but also a composer and an engaging storyteller and entertainer. Look up his fabulous originals on the CD "Under the North Star" on Arabica.
thecountryblues.com caught up with him while he was driving home to Minneapolis back from a short tour of the Midwest. He offered an optimistic assessment of the future of acoustic music, " It's an exciting time," said the guitar picker, "over the last 20 years or so, many young people are showing interest in roots music, and many musicians are playing it. Roots music in general is in good hands. Good people are playing it, like Charlie Parr. Guitar makers are building phenomenal instruments, better than ever. Luthiers like Dale Fairbanks and Charles A. Hoffman. As long as the audience keeps coming out to the shows, buys the CDs and supports us, we will keep rolling with it. It can only happen if the people come out to support live music…"
He's a musician not to miss.