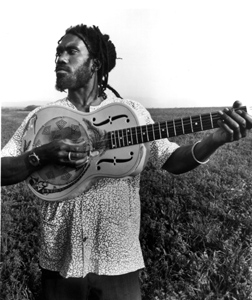 This innovative artist has emerged as one of the most significant musical artists of our time– not just in the blues. An internationalist and musicologist residing in Virginia, Harris generously dips into the vividly rich palette of African American traditions – including traditional blues, West African, Afro-Caribbean, funk, jazz, New Orleans, and even rock-n-roll. This progressive amalgam of black roots music allows Harris, a supremely intelligent college grad who has studied in Africa and taught French here at home, the elbow room he needs as an artist and thinker. He's having some serious fun and from its core this exciting performer exudes exuberance, celebration and joy. Simultaneously, the dreadlocked Harris is a progressive songwriter who is keenly aware of his ancestral roots and the history of his people, here in the US and in Africa, and he shares that experience in song like a griot storyteller. He is simply a genius. When it comes to the old country blues, which is always in the center hub of his musical sojourns, he is truly an heir to the best of the original masters. He is not just keeping the acoustic, traditional blues alive. He dares to move forward. Like the best of contemporary blues movers and shakers, Harris is grounded in the deep blues framework.
He even sings in French when he feels like it.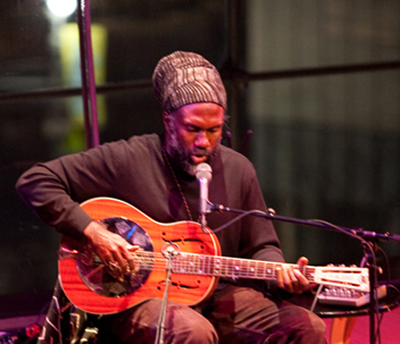 No matter where his adventurous soul takes him, Corey Harris slides back to the heart of the old blues on his vintage, golden colored National guitar with the flower bedecked Hawaiian Hula girl. There is an underlying tension in his blues, a powerful sense of necessity, an energy that comes from expressing the emotions and reflections of life that makes the blues the blues. For someone so young and removed from the hardship that drove the original blues, Harris is uniquely able to carry that fire, that unbridled deep rooted feeling that we all try to describe with words, but are never able. You get to know quickly that this man has a longing, a burning expressiveness inside of him. His musical trip through the landscape of African-American and African roots is nothing short of amazing and his blues are the real deal. Much debate has raged over authenticity and comparing of today's musicians to those of the early blues, which the new generation carries on. That debate can never touch Corey Harris. The bluesmen of old would have tipped their hat to him. Harris is a brilliant player who is at once proud of his ancestry and culture, and a proponent of a musical pan-Africanism, and has emerged as a dreadlocked musical ambassador for the blues.
Recommended Starter:
Fish Ain't Bitin' on Alligator Records, Corey Harris' debut album, is still the primer to that will most please traditional blues fans.