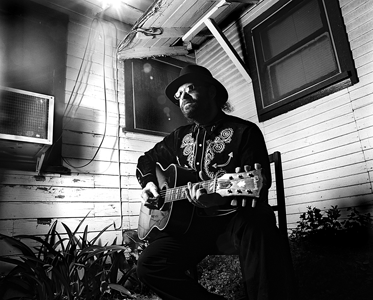 The brilliant bard way up in Canada is not exactly a household name, but you, dear acoustic blues lovers all over the world, ought to cheer with joy when you hear his name.
The somewhat unsung Canadian bard, a roots & blues singer/songwriter, producer and slide guitarist, Colin Linden is a giant in the acoustic blues. If you listen to roots music you have probably heard him without realizing it as he often keeps a low-profile even though he has a resume as impressive as it gets as one of the biggest and best producers and sidemen. He has played with Leon Redbone and Sam Chatmon, Amos Garrett, The Band, Lucinda Williams, Keb Mo, Jonel Mosser, and many more. He worked with T-Bone Burnett, Sue Foley, Mavis Staples, Kim Wilson and Janiva Magness and generally a list so long it can't fit into this short profile. In every way, he should be considered on equal level with great producers like T-Bone Burnett and Daniel Lanois. All that, but when he sits down and plays it becomes clear that he can play the blues like few others on the planet.
Way up there in cold Canada, Colin Linden let that rough-hewn old blues get under his skin. This guy plays the guitar with a cool elegance, understated and subtle, yet just perfect with the right mix of emotive feeling and technical skill. A brilliant slide player and picker, he is a captivating singer whose songs are simply thrilling. If you think that they don't write great blues songs anymore the way they did when Willie Dixon and others belted them out at Chess Records in Chicago, listen to Colin Linden's original song "Blind River Bound," a remarkable and moving song that can stand with the best blues ever written. That song, just as an example, will make it unequivocally clear that when it comes to contemporary songwriting in the acoustic blues, he is among the giant songwriters of our time. He is among a select few who write new blues songs today that are modern day classics en par with the best ever written, new or old. Listen to Colin Linden perform his original songs and you can almost hear Snooks Eaglin singing it in your mind and it fits just perfectly.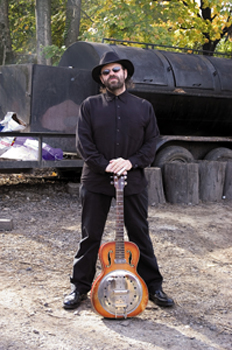 When he performs old traditional blues songs like Skip James' "Hard Time Killing Floor," he does it with such intensity and conviction that it would seem he is an old-soul, a haunting came from down in the Deep South instead of Toronto, Canada. He is one of those musical geniuses who can seemingly do it all, and, well, he sounds amazing.
No wonder he is such a sought after player and producer. A great example of modern acoustic blues is his CD "Big Mouth" on the Accord Label, a must for every acoustic blues collection and one of the favorites of this writer.
The three time Juno award winner with the trademark black hat and dense beard, is a powerhouse with true grit feeling. See for yourself.