When the young New Orleans bluesman first appeared on the scene in the late 1980s, and through much of his early career in the 1990s, he was unceremoniously panned by the harsh blues world. Everybody recognized that he surely had plenty of talent and potential, but the widespread feeling was that he was too-soon-out-the-gate. DJs and blues writers felt he just didn't have the chops yet to hold his own. He was marketed as the great young turk of the African-American blues, but his so-called peers didn't quite look at him as an equal. This writer, a former DJ, distinctly recalls a particularly stinging criticism by an internationally famous bluesman who said "I've got students who can play better than that."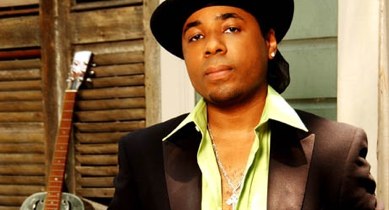 That was then and this is now. Chris Thomas King just kept on rolling unperturbed, paying his dues and working hard. By now, he is all that and then some, a fine bluesman and successful performer; and hardly anyone can still muster the old critiques. He comes from a musical family and had the advantage of learning the ropes from his dad, Tabby Thomas, a locally prominent bluesman who owned a club called Tabby's Blues Box. He played and toured with his dad and all the fine musicians on that scene. The exposure Chris Thomas King had in that environment growing up was invaluable in shaping his career, not only in musical influence but in understanding the music business. He also had the smarts to make good connections and a bit of good luck to get a major acting role in the superbly funny and musically successful Coen brothers' Oscar nominated film "O Brother, Where Art Thou." Millions of people suddenly perceived him as a true itinerant musician, like the character of the old bluesman Tommy Johnson, whose part he played. What could be better boost for a young man's career than selling 10 million soundtrack albums and reaching number one on Billboard? Answer: Being smart enough to capitalize on it. In 2001, Chris Thomas King established himself as a serious acoustic, traditional bluesman with the release of "Legend of Tommy Johnson–Act 1: Genesis, 1900s-1990s" containing originals and Tommy Johnson's famous "Canned Heat." C.T. King, then hit the road and toured across America and appeared in "Down from the Mountain", a concert organized by the Joel and Ethan Coen and producer T-Bone Burnett. King and Canadian bluesman Colin Linden performed "John Law Burned Down the Liquor Sto'" written by King. Another live concert album followed and went gold, and so did Chris Thomas King's career.
He performed in several more movies, including the Wim Wenders film "Soul of a Man." He has issued a couple of dozen records, some spotty, exploring multi-faceted directions, and charted his careers straight ahead. He has carved out an important role as an acoustic blues performer who has garnered worldwide attention to the genre and has earned the respect that was initially fleeting. He has branched out into folk, country, hip-hop and rock, but all along he has carried a passion for the country blues and he sings it as good as the best of them. Today, Chris Thomas King is indeed a captivating A-class player, a guy who reaches way deep into the traditions while keeping the sound fresh and engaging. He comes out looking dapper and snappy, and is one of the most important is a young bluesmen on the scene. The best is yet to come. When he sings the blues with his mellow voice he will melt a cold, cold heart.
Recommended starter: Acoustic and traditional blues fans will like "The Roots" on 21St Century Blues Records.