by Australia Correspondent Julie Fox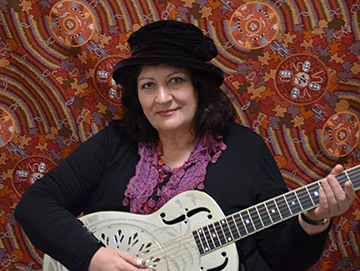 Although "Chris O" (Okunbor) has been based in Australia for the last 34 years, she considers herself a bit of a global citizen. Born in England, but having spent a fair amount of time hemisphere-hopping; living in South Africa, New Zealand, Iran, and "hanging out in a lot more countries." Chris is currently a resident of the World Heritage listed Blue Mountains, west of Sydney, and is pretty settled, but does occasionally gaze to the distant horizon and considers Berlin as being the next adventure on her "bucket list!"
Chris got hold of her first guitar at about 12 years of age, after begging and cajoling her parents for one. They were the years of the huge folk revival that was sweeping through England, and country blues was very much a feature. She wasn't drawn to the polished roots music coming out of some of the university campuses of America and England, but gravitated towards the sounds of the original blues-makers, such as Reverend Gary Davis, Lonnie Johnson, Queen Victoria Spivey, and of course, much beloved by the Brits at the time, Josh White. In those heady days of the late '60s and early '70s, roots music was intertwined, with many of the folkies moving seamlessly between traditional European, alternative folk, and country blues pieces.
Other earlier musicians to have a profound effect on Chris' musical style during those years were players such as Son House and Muddy Waters, who were touring outside of America, and were, in turn, teaching and sharing with some of the younger generation. People like Jo-Ann Kelly, Stefan Grossman, and Woody Mann. Chris remembers being stopped in her tracks when she first heard a recording of "Oh Death" by Jo-Ann Kelly and the Groundhogs….which led her straight back to the source, Charlie Patton and Bertha Lee. This is a song in her regular repertoire today, but in the spirit of the '70s, she has arranged the guitar in a semi-open tuning, contrasting the dark minor tones of the gospel blues melody line with guitar instrumentation in major keys.
Chris O still paints from a wide pallet, drawing on many styles of acoustic blues and roots music. She is a prolific songwriter who experiments with many roots styles and has a love of co-writing, composing, and recording with a whole raft of musicians around the world, via online musical communities such as Sound Cloud. Flowing out of her deep love for very early blues and hollers, she also enjoys "writing the tradition", composing new songs with a vintage feel, but contemporary edge, such as "Good Lovin Man" and "Workin the Cottonfields", which are featured on her 2016 album.
"It's really important to me that I honour the sources of blues music, and the hardships people endured, which is at the heart of the music. A piece may be a deeply sad and moving testament, or an upbeat funny observation of life and love, but my litmus test of a song is to pause and consider if there is enough depth and humanity there that my musical mentors would find something worth listening to if they were sitting in the room with me. It was so special to get feedback from some of the older local Afro-American blues players down in the Memphis/Delta area that they really enjoyed my Old School stuff."
As a solo singer/instrumentalist, Chris plays a number of instruments, such as banjo, ukulele, lap slide guitar, 4 string biscuit tin guitar, Dobro, Irish whistles, bodhran, and, of course, "plain ole guitars." She has a few favourites; her mahogany Martin dreadnought, single cone National steel resonator, and an 8 string Lanakai uke.
On her tours in Europe, and more recently America, Chris gets a real buzz out of performing live with musicians she has worked with in "Cyberspace." In the Netherlands, for example, she plays with blues artists such as the blues/jazz guitarist Iwan Gronert and Niko Christiansen, from the '70s, and current, chart topping blues band, Livin' Blues Xperience.
In 2016 Chris O represented the Sydney Blues Society as the Solo Contestant for NSW, Australia at the International Blues Challenge in Memphis. Whilst in town she also performed at an International Showcase, and the prestigious National Women in Blues Showcase. "Playing in Memphis, and later down in the Delta, were very special experiences. To hang out in places that were the inspiration for much of my music was very important, as was meeting up with musicians from the area. Times are still extremely tough for many folks living in Mississippi and Tennessee, and I can see the blues is just as relevant today as it was in the '30s – providing a voice for the battlers."
While in Memphis for the IBC, Chris connected with many blues artists from around the globe, and is getting radio airplay in many countries. "A real highlight of my trip was to play a couple of numbers in Red's Blues Club in Clarksdale, and then to meet up with Red the next day and talk about the original acoustic players still alive and playing around the Delta." In the last two years Chris has toured Europe twice, playing blues clubs and bars in France, The Netherlands, Germany, the U.K. and Denmark, as well as a few weeks in the USA. Over the years she has played at a number of Australian Blues festivals and is a regular performer at the latest dedicated jazz and blues venue in the Blue Mountains – the aptly named Hotel Blue!
Chris O has two albums of vintage blues covers and originals:
Peckman's Plateau – 2014
Moanin an Wailin the Blues – April 2016 release