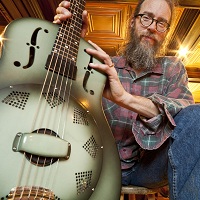 thecountryblues.com caught up with the traveling minstrel as he was making his way to Missoula, Washington on a tour of the Pacific Northwest. He lives in Duluth, Minnesota, the hometown of Bob Dylan, but originally he comes from Austin, Minnesota, the town best known for the meat product SPAM. He's a working class lad who was once a high school drop out, but later got a philosophy degree. He ended up as a singer/songwriter, musical preservationist and storytelling singer who philosophizes with poetic brilliance, more like Doc Boggs than Bob Dylan – but who did Dylan emulate in the first place? Charlie Parr may be one of the great unsung folk singers in America today. The folks who know him know it.
The northern bard hasn't had a "real job" in ten years. Before he was able to be a full time musician he had a job as outreach worker to homeless people. Now he enjoys seeing the country, taking three or four long tours all over the US, and Europe from time to time, with his National Delphi resonator and his 12-string Guild, playing old time country blues in every kind of venue from festivals to roadhouses to cafés and listening rooms. He has played the Kennedy Center and toured Australia, where he is well respected as an American roots music player. Wherever he plays, his vast knowledge of folk and blues and beautiful renditions of his own songs and those from the folk repertoire, have earned him devoted fans. Charlie Parr is a modern day itinerant musician – one of the best truehearted roots & blues-folkies in the land.
Like any good singer/songwriter, he is also a storyteller, a man whose plaintive voice carries stories about real life Americana, existentialism and everyday people and things. He's an American original!
One of the many interesting aspects of Charlie Parr is how long he has been at it. He started at the unusually young age between seven and eight years old. It all started with his daddy's substantial record collection, where young lad Parr discovered Mance Lipscomb, Lightning Hopkins, and the magnanimously influential Harry Smith collection. He is the first person this writer had ever come across that got hooked on Mance Lipscomb at that early age. He grew up without a TV – an often heard fact that helped many young musicians free their time to the more productive pursuit of practicing. As a teenager he discovered Charlie Patton and Robert Johnson. The musical influence on an impressive young mind was profound. He started to emulate this influence as a young child and has carried it through for all of his life, by now 40 years. Charlie Parr is self-taught and has truly been at it for a lifetime. It reflects in his music, which is an integral part of his essential humanity. The early self-guided apprenticeship, the learning from records and the intrinsic personalization of the musical influence have shaped him to be an exceptionally strong performer who feels the folk blues in his soul.
No one can take that away from him. A inspiring white guy from a small town in the cold north of Minnesota can be a true-hearted folk blues man to carry on the musical traditions of the poor, oppressed African Americans with love and reverence. The only way anyone could challenge him would be on his ethnicity, which would be not just wrong but cruel. He has lived and breathed this music since early childhood and he has devoted his life to it, and he performs it so beautifully, passionately and exceptionally that the true definition of the overused word "awesome" is the best adjective a writer can find. Charlie Parr, with his hippie grunge style, is a superlative picker and slide guitarist, a folk treasure and man with an impressive repertoire.
By now, he travels Europe and the USA and has a very positive outlook about the current state of acoustic folk blues, "Over in Ireland they know more about Charlie Patton than most music fans over here. But I see a real resurgence of acoustic music all over. There is new interest in folk music and old time music. I just played with Frank Fairfield up in Eugene, Oregon. Frank is an old time player who is very popular. People are passionate about it. I think it's looking good."
He has made a world-class reputation as a country blues player who plays mostly original material and also a substantial repertoire of old songs by Furry Lewis, Leadbelly, Skip James, Lightning Hopkins, Blind Lemon Jefferson, Bukka White , Blind Blake and many more. Because he only carries one six-string guitar, he retunes from standard to Open C, D and G, and sometimes Betonia and other more obscure tuning variations. He also plays banjo very well and often takes it on the road.
Music critic Wayne Robins did a nice documentary about him called Meeting Charlie Parr, worth checking out. There are some excellent YouTube films featuring Charlie Parr, too long for this review. Especially check out his performance at the Paramount.He has lots of fine records out and tours all over. Catch him life. Buy his music. The man is astonishing.