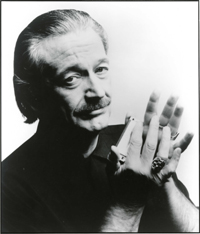 "Memphis Charlie" Musselwhite is a versatile country blues harmonica player in the tradition of the great early players like Hammie Nixon, DeFord Bailey, Sonny Boy Williamson I and II. This not because he emulates their style and riffs but because he does not rely heavily on the sound system and amplification for his tone and style. No matter which way you cut it, the blues harp is played through a microphone and an amplifier, but the level of influence of sound technology on the harp player varies.
If you play a huge Chromatic harmonica through a Green Bullet microphone and then turn the reverb and sustain way high on a Fender Bassman amp you can replicate the typical "fat" urban blues sound. If you use the same setup but stick with a Hohner Marine band you can emulate the Little Walter sound. There are all sorts of sound enhancements available to today's harp player, from simple reverb and echo to vast audio manipulation. It's all good and it all has its place.
However, when you strip it all away, you have a straight, clean simple sound that relies foremost on the skills and sensitivities of the player, unaffected and unencumbered.
In an acoustic setting this is the preferred way, and this is where you can really hear the beauty in the playing of someone like Charlie Musselwhite. Compared to "noble" instruments like piano, violin and guitar, the harmonica seems like an ignoble, inconsequential little thing with inherent limitations. Yet, in the hands of the great harmonica players, it is elevated and transformed into a magical thing of beauty. Few people alive today can play it with such elegance and tasteful artistry as Charlie Musselwhite.
Suffice it to say that he is widely considered as one of the best blues harmonica players today. This writer had a chance to interview Charlie Musselwhite for the January 2013 issue of Living Blues, on the occasion of his bold collaboration with Ben Harper on their new album Get Up!, which pairs him with the fiery and intense singer/songwriter and guitarist. This collaboration between the two befriended músicos articulates new ground for the blues. The harmonica ace "Memphis Charlie" has played with Muddy, the Wolf, Big Joe Williams, Sonny Boy and Little Walter and many other.
Charlie Musselwhite's plays with exquisite, understated phrasing and clean and tasteful touch, light, airy, open, when less is more and finesse trumps. He is a master of subtlety who rarely soars over the band. Even his solos are more eloquent than flashy.  He said, "I got a style of my own when playing the harp. I listen first…I listen and then I respond with whatever the song needs. I hear whether it wants to be in first, second or third position, and then I just play what the song needs. I think of the phrasing. Each position is like a mode, each has a flavor. I determine which is going to be most sympathetic to the tune. It has to do with the melody and form. I just need to hear it. I'll pick out the right approach. That's my style." Plenty has been written about his impressive bio as a harmonica master. He is an inspiration to harmonica players worldwide and his album "The Harmonica according to Charlie Musselwhite" is the quintessential must-have for any blues collector and harmonica player.
One thing about Musselwhite that most people don't know is that he is also a superb country blues guitarist and singer with deep blues roots. (The other great harmonica player who is also a superlative guitarist and multi-instrumentalist is Paul Oscher).  In 1992, this writer was in the audience during tribute to John Lee Hooker. The night was filled with amazing acoustic blues. Bonnie Raitt and Ry Cooder played a duo together. Wille Dixon performed. Charlie tastefully backed numerous musicians on harmonica and then sat down on his own, a solo country blues player with guitar playing the most ethereal, deep roots blues imaginable, and not just a little, and he stole the night. On his own, as the complete package, he was simply quintessential. Unbelievably good.
Even if Memphis Charlie never played harmonica again, he could easily be ranked among today's best traditional singer-guitarists. Yet, as he told this writer on assignment for Living Blues, "People always seek me out to play harmonica. They don't ask for me as a slide guitar player, but I like doing it." His father gave him his first guitar at age 13 and he taught himself to play. He said, "I already loved the blues and decided to teach myself guitar. I'll never forget how good it felt when I played an E chord and then put my little finger in a position to play an E7 chord and how good it felt. Blues not only sounded good, it felt good! I went on to get to know a lot of old time blues players around Memphis and picked up quite a bit from them."
Along the way, as he became known as a world-class blues harmonica player, sought out by the likes of John Lee Hooker, he picked up a lot more guitar in Memphis, Chicago and later the San Francisco Bay region. "In Memphis there was Wille Shade, Furry Lewis, Willie Borum, Earl Bell, Abe McNeil, Red Robey and more. Later in Chicago there was Big Joe Williams, Homesick James, John Lee Granderson. I remember when I was a teenager, Will Shade telling me he was going to teach me the same way he was taught. Will Shade met an old man that taught him and now he was going to pass it on to me – guitar and harmonica. The first man I met that played guitar with harmonica on a rack was Willie Borum. I loved his style and decided that was for me."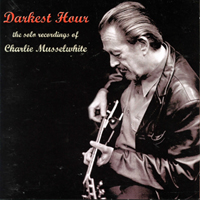 Memphis Charlie is at his core an acoustic country blues player who writes his own blues songs, sings, plays guitar and harmonica. "It's the kind of blues that means a lot to me. It's where I started and it's where my heart is still today, back in Memphis down on Beale Street." The full spectrum of him as a complete acoustic blues player is showcased in his superlative, self produced album "Darkest Hour."
At the time of this writing, Charlie Musselwhite is on a world tour with Ben Harper.