One of the greatest of the not-yet-famous players, Brother Yusef is from Bakersfield, California, a place better known for Country music than blues. For some reason his career has never quite taken off, although he is one of the best talents in the genre. With an exuberant, highly rhythmic beat and a wildly flailing slide, the dreadlocked brother chugs and stomps the blues with impassioned devotion.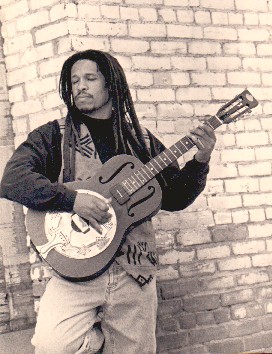 Many lesser bluesman have hit big time, but this dedicated soul has mostly stayed at home, playing locally at Disney. Go figure.
He has 5 or so seemingly self-produced CDs out and he is an excellent slide player and fingerpicker, with a strong singing voice. Indeed, he sings wonderfully, which adds to the full, rich sound, which he likes to call "fatt-back", a term not off target.
This guy has it all going, with real verve and spark. His renditions of the old classic blues are delivered with a funky, deep-roots style that will make anyone sit up and listen. Brother Yusef is ready for the big time and one hot player.
Definitely a guy worth adding to your collection!
Recommended starter:
Blues By Request , 2003 Fatt-Back Records. His rendition of "Everyday I have the Blues" is just madly fun and entertaining.