The great tradition of the harmonica-and-guitar blues duo lives on with two excellent musicians from the Northeast USA: guitarist & vocalist Bill Sims Jr. from New York City and harmonica player Mark LaVoie from Vermont. The Delta Groove recording artists joined forces in 1993 and have been working together as an acoustic act, performing in club and festivals, nationally and internationally. Their recent Delta Groove album is aptly titled "American Roots Duo", as the pair works in direct continuation of the great blues duos of the golden era. Sims and LaVie play old blues standards and originals in a mellow-down-easy, almost languid style of their own. This lovely album of kind-hearted, beautifully crafted acoustic music may not be ideal for dancing or foot-stomping, but the album is perfect for moments where the music needs to be gentle, like when reading or in conversation. Unlike the often-perpetuated stereotype, blues aficionados are not just bar hopping ruffians in lowly juke joints. Cultured blues fans don't feel ashamed to put on some good acoustic music during a romantic dinner-for-two, with candlelight and the fireplace burning, some fine wine on the table. This thoroughly enjoyable CD would be a perfect starter for a nice evening and a lovely, easily accessible introduction to the blues, not to mention to make a good impression.
While they have been together for many years, both Sims and LaVoie are engaged in separate activities and not performing as a duo full time. Catching them together in a live duo performance will not prove as easy as getting to know them through the CD "American Blues Roots Duo."
Bill Sims Jr., skilled guitarist, ethereal vocalist and pianist, is a regular performer at Terra Blues in Greenwich Village, NYC*, who plays a wide range of blues. He covers the gamut of the blues sub-genres in both acoustic and electric formats, with a variety of ensembles. Like his fellow New York blues musician, Guy Davis, Sims is a true renaissance man, a cultural ambassador of the music, active on many stages. Previously not widely known, Bill Sims Jr.'s career and popularity took a meteoric rise with a PBS TV documentary, featuring Sims and his multi-ethnic family, in the 1999, ten hour PBS special "American Love Story". This documentary focused on the personal life of the couple, and Bill's music played a secondary part. However, many within the blues community were introduced to Bill Sims Jr., the musician, through the TV show or by the accompanying, self-titled Warner Brother blues album, released in 1999. To many who missed the original broadcast of the TV series, like this writer, the album was a revelation. Here was superb bluesman right here in New York and still not on everyone's radar. To date, this excellent CD stands as his only solo album.
Among Bill Sims Jr.' many activities was a part in the stage production of the renowned "Lackawanna Blues" play, with playwright Ruben Santiago-Hudson. This original became the basis for the HBO movie "Lackawanna Blues", produced by Halle Berry. Bill appeared in the band scenes. He again worked with Ruben Santiago-Hudson in August Wilson's play "Seven Guitars" featuring original music written for the production. Bill Sims Jr. also played on the sound track of the film "American Gangster" starring Denzel Washington. Ruben Santiago-Hudson plays Denzel's driver. Sims was also was a consultant on the set of "Cadillac Records" a fictionalized film about Leonard Chess and Chicago's famed Chess Label, advising the actor how to play in the old Mississippi style of Muddy Waters. Sims played guitar on the "Stovall Plantation scenes.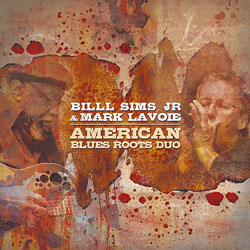 Mark LaVoie is a "harp" player of French-Canadian origin who teaches harmonica in and around Middlebury, Vermont. He favors an understated, subtle style of accompaniment– gentle, without the propensity to overshadow the melody. Unlike some harp players, his primary emphasis is on a rich, warm tone and feeling, the emotive sensibility of harmony and accentuation, rather than intensive showcasing and soloing. The style of tasteful articulation is rare today, when many harp players want foremost to be perceived as magnificent soloists. LaVoie was influenced by Sonny Terry & Brownie McGhee, Paul Butterfield, Corky Segal, Charlie Musselwhite, Howlin' Wolf, and Big Mama Thornton– but sounds nothing like them. Yet, none would prove as important as his youthful experience as when he was driver for the famed blues duo of Sonny Terry & Brownie McGhee. The harp player reminisced, "I first saw Sonny Terry & Brownie McGhee in Plattsburgh NY, in the fall of 1974. I went back stage on the break and met Sonny, and played a little for him. He showed me a lick, with several people there, the one where he slaps his harmonica. After he played it, he said with a laugh, "Now don't slap it too hard or you will knock your teeth out". A year later, in September of 1975, I went to Nashville, and Sonny Terry & Brownie McGhee were playing at the Exit Inn for the next 5 days. In July of 1976, his wife Emma called me and asked if I would like to be Sonny's driver. I flew from Burlington, Vermont, into Atlanta, and was Sonny's driver for the next four months. We left Atlanta, and drove to Baton, Rouge, and I remember when we were in the Motel, Sonny said "Let me hear you play Mark". I played a little and he said " Mark, you sound pretty good, I'm gonna call you up on stage tonight." He called me up just about every night on a song "Mean Woman Blues", a song his wife Emma wrote. Brownie would call me up on his song "Walk On." I was 26 and it was a fabulous experience, for me to be on the road with two blues legends for who I had the highest admiration. My deepest impressions, with Sonny & Brownie, was their humanity and passion for their music. They had this grudge between them, and both were stubborn as hell when I tried to talk to them about it. They had their differences but Sonny would say, "Me and Brownie are like a team of horses, when it is time to go to work we hitch up." Whenever I played my harmonica for Sonny, in the car or the hotel room, he would listen. He once said "Mark take something from me, but play it the way you feel it." I took that to heart. I remember one time he was talking to some one in the room, and he said, "Mark has his own style." I could never copy, lick-for-lick. I would start to play a lick, and then something else would just come to me. That is how I developed and improved my style of playing."
Among his various exploits, Mark LaVoie has developed a titanium comb for diatonic 10-hole harmonicas and is actively promoting the harmonica blues.
www.billsimsjr.com
www.myspace.com/theharmonicaman
www.middlebury.net/Lavoie
* New York City is often overlooked as a blues center, and indeed, it has seen its better days. Yet, clubs like Terra Blues are one of the best in the USA, with amazing players like Michael Powers, Bill Sims, Ray Shinnery, and many more. Check them out when you are in New York City.