One of the important players on the acoustic blues scene today is Mississippi bluesman Ben Wiley Payton, who was born in tiny Coila in the hill country just east of the Delta. Today he resides in Greenwood, Mississippi where he often performs locally, although his life sojourn was not limited to the Magnolia State.
As a teen he moved to the Windy City, Chicago, with his family in 1964, a place teeming with blues at the time. Like many other African-Americans from the rural South, the family migrated north for a better life, better work and, most likely, emancipation from the Jim Crow segregationist laws. He would spend 40 years of his life there. As a young man he became a musician iand played in house bands of various Southside Chicago show clubs like Peyton Place and The Green Bunny, performing Soul, R&B and Jazz behind whatever performer came through on tour. He polished his chops behind a long string of headliners including Otis Clay, Bobby Rush, Garland Green and many others. Ben Wiley Payton also played jazz in North Africa for 8 months in 1971 at the famed pianists Randy Weston Club in Morocco.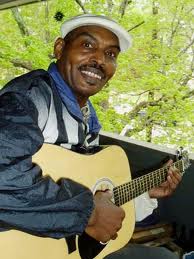 His musical journey started in church as a child in Mississippi. "The only live music we heard as kids was in the church and later in the marching band. I was enchanted by that marching band sound. I remember going home and fashioning my own marching drum by taking so sticks and turning a washtub upside down." Yet, it would take many years until he found his path back to the rural roots music of his home region.
This diverse musical experience formed the basis of his heritage, but family matters caused him to walk away from the life as a professional musician. It wasn't until 2001 that he found his musical essence as a folk blues player, having discovered the country blues players of the golden era. Since he returned to Mississippi in 2001, Ben Wiley Payton's evolution into a full-fledged Mississippi folk blues singer started with educating himself about the great players before him. He went on a musical tour through the history of his heritage as a Mississippi African-American musician, exploring the rural blues from the Mississippi Chiefs to Charley Patton,from Son House to Robert Johnson and Willie Brown, across the United States to the Piedmont, He covered them all and evolved with each excursion into his own right as a bluesman.
"In Mississippi I like Robert Johnson and Mississippi John Hurt. Both of them had a wide vision. Their arrangements and stylistic musical exploration appeals to me. I also like Big Bill Broonzy, a sophisticated player. Out East, I like Blind Blake and Blind Boy Fuller. They could play some fine blues." When you hear his deep roots blues today it seems like he's played this music his whole life long, but maybe connecting with the folk country blues was a natural and intrinsically expected step. Ben Wiley Payton is by now an essential player on the Mississippi Blues Trail, and a highly respected and sought after performer who writes original material in the old tradition.
He has released a stellar self-produced album "Diggin' up old country blues", with a title that implies a revivalist album, but in fact they are all original blues songs with no old standards to be found. "I want to take the country blues to a higher level. I want to keep the beauty and style and the art of the old, the Depression era music like Blind Lemon and Mississippi John Hurt, but I want to make it new, to experiment," he said. Indeed, Ben Wiley Peyton is an extraordinarily good singer with a rich, warm, soulful tone that is somewhat reminiscent of Terry Evans. Mr. Payton's songs are spirited, compelling and strong. His guitar picking is clean and sensitive, and anything but "stark" as it has been falsely defined by some reviewers. Indeed, if anything, his playing is lyrical, perfectly fitting and lovely in phrasing.
He played a preview of his soon forthcoming album for thecountryblues.com , which featured a unique song intro, a "hesitant moving bass line like Leadbelly" as he called it.
Ben Wiley Payton's reputation has far exceeded Jackson, Mississippi, where he often performs locally at venues like The Yellow Scarf (which Mr. Payton refers to as Cassandra Wilson's listening room), The Pizza factory and Georgia Blue. These local venues are often visited by tourists who are on the famed "Blues Trail" through Mississippi, with country blues fans coming from all over the world to hear blues.
The Mississippi folk singer has achieved major international recognition as he was selected to represent his home state of Mississippi in Washington, DC for the American Folklife Center's Homegrown Concert Series presented by the Library of Congress. The appearance included an additional concert at the prestigious Kennedy Center. This honor is surely just the start of things to come for Mr. Payton, a true-hearted country blues player who does not just keep the traditions alive, but advances the folk blues today.
The YouTube videos of him are blocked for insertion into this profile. Go to YouTube and search his name. Better yet, here is the Kennedy Center performance in much better quality.