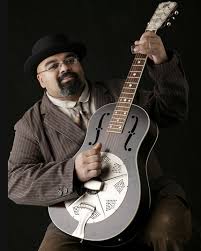 This bluesman may be the most internationally famous practitioner of the acoustic blues that you may not have not heard of. If you didn't you should!
This fiery acoustic Delta-style player in Cleveland belts out the acoustic blues in a rich deep, ethereal and raspy baritone, occasionally reminiscent of Tom Waits. He plays wicked slide guitar and writes original songs good enough to make you think he found them on some newly discovered old 78-rpm record. Truly one of the most vibrant and exciting voices in the acoustic scene, Austin Walkin' Cane is peaking in his prime, in high demand at festivals worldwide, producing excellent records and establishing himself as major player on the scene. His original songs, like High Rent Lemon Girl, Aren't You? Could become instant blues classics. There is just the right combination of artistry, entertainment and instrumental skill. This guy can walk on any stage in front of any audience and enthrall them with fire and brimstone down-home blues, deep roots style.
His real name is Austin Charanthat from Cleveland, Ohio. The "Walkin' Cane" thing is not just some fake "make-me-authentic" blues name. He has a bad leg and walked with a cane from age 16 to 26 due to an arterial venous malformation resulting from chicken pox. While performing on Bourbon Street in N'Awlins French Quarter a panhandler hit him up for some money, saying, "Hey Walkin' Cane, can you spare some change for a brother?" That name stuck.
When he was 26 years old, the leg had to be amputated below the knee. Now he walks with a prosthesis and no longer needs a cane, but the name stuck. He used the down-time in between his illness and surgeries to do what any good musician would: sit down and play. During these ordeals he was obsessed with practicing, playing 8-10 hours a day. He started playing in 1984 – coming up on 33 years at the time of this writing.
He told thecountryblues.com, "I started off playing more rock 'n' roll – Cleveland is a very rock 'n' roll oriented kind of city, so I was getting into the Rolling Stones and Jimi Hendrix and Eric Clapton and they were all talking about Robert Cray at the time, Stevie Ray Vaughan. They were all talking about BB King, Robert Johnson –and all that – so that's how I started doing the research and really got into the music. And everything that I did, no matter what it was, always had kind of a bluesy sound to it, so I just stuck with it. My first introduction was Robert Johnson. Then I heard of Booker White and Taj Mahal even and just kind of went further with that. I started playing out in public when I was 15. I started listening to blues records in 1994.
I have two Nationals – a Tricone that's a newer one, maybe 2001 and a 2006 N2 National. I'm sponsored by the National Guitar company so they help me out a little bit. It's been an amazing couple of instruments to really dig into and to learn their nuances and to pick up on the style. I also play a '71 Gibson 335 and a couple Stratocasters and a Gibson SG and a Bo Diddley Gretsch – and a Dobro too. My two main acts are the Nationals at the majority of my gigs. I mostly solo and often perform in a duo with Dave Morrison, who is a great harmonica player and singer. I've been performing professionally for 15-20 years."
By now Austin Walkin' Cane is world renowned as he performs internationally at major blues festivals as far away as Katmandu, Nepal, and all over the US in festivals including at Terra Blues in New York City. "Of course I gig around Cleveland, but then I take trips to New York and Chicago or down to Memphis and Helena and Clarksdale – maybe down to Florida. I'm going to Australia again in May again for about two weeks. And I think Colombia –I'm about 80 percent sure I'm going to Colombia this year to play down in South America again. I get around – but you know I have a family – my wife and my kids, so unless it's the big time, I'm going to stick around kind of close. I'm playing the King Biscuit Festival this year. I played the Chicago Blues Festival a couple of years ago. I'm still on the list for this year, but I haven't been confirmed yet and the Juke Joint Festival in Clarksdale. What else? Wheeling Festival, and then a bunch of little ones around. I think there's the Simply Jazz and Blues Festival in Berkley, West Virginia, the Martin Luther King Blues Festival in South Carolina – so I've got a handful of them. It's a tough racket breaking into those things – you almost have to have somebody on your side, a promoter or somebody to say, "Check out this person."
Austin Walkin' mostly performs his own original songs sometimes co-written with Chris Allen. He explained, "Chris and I went to grade school together. I met him when I was about 5. We have been friends and always play guitar together. We're not in the same bands or anything. When we were teenagers he started coming up with his own songs and I would play on them and try to do demos and things like that. As time evolved, I started writing my own songs. Now it's gotten to the point where we try to do it the one day off the week we have, on Monday – try and come up with some new materials, something that maybe can – it's a good feeling to write a song, especially if it translates and people understand it or kind of like it. It's a very satisfactory. I play a lot of shows, but I can't really play any more – I'm playing three-hundred-and-some shows a year."
A heavy hitter, the real deal, count him among the top tier practitioners of the acoustic blues.