What gives this Frank Matheis the right to write about the blues?
It is simply because he loves the blues and feels it in the bass string of his soul… Because he grew up on the music, which still makes his toes tingle after more than 45 years of devoted listening. When he was 16, his confused mother looked at the posters in his room and wanted to know, "My God. Don't you listen to any white people?"
He  owns more blues books, records and CDs than his house can hold. He's played blues harmonica since age 15, including with Mississippi Lowry Hamner. He spent a few years busking in Europe and has read just about every book on the subject.
Like many compatriots, Frank is a self-taught "record store musicologist" who spent his life in roots, blues & jazz at a time when true musicologists worked in record stores where true music lovers congregated. It was a nurturing time for blues lovers.
Dr. Adam Gussow has used Frank's blues writing in his classes at Vassar College. Frank used to publish for one of the best blues magazines of all time "Blues Access" and had been a guest lecturer at the State University of New York, at Vassar College and  at Marist College. He has published over 400 music articles and spent nearly a decade on the radio in New York/Connecticut hosting wild blues & roots shows and produced an award winning radio blues documentary that aired on three continents.
Here are some of the quotes about Frank's blues documentary:
'I Wish I Was in Heaven Sitting Down' …should be required listening for anyone interested in American music…because it brims with powerful, potentially life-changing blues. You cannot hear this music and remain unmoved."
– Eric Pooley, TIME Magazine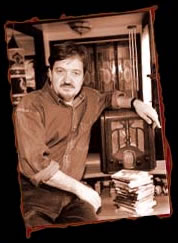 "People often ask me, 'To what do you attribute the resurgence of the Blues ?' Usually I reply, 'I didn't know it went anywhere.' Well it is thanks to people like Frank Matheis that it is always available. For the
 new listener, this will turn you on to the many colored art form that the
 blues really are. For the long time fan, you will hear things you heard years ago as well as things you should have heard years ago. You will also hear things you should hear today…
-Jorma Kaukonen
Singer/Songwriter
Hot Tuna; The Jefferson Airplane
"…  Reflecting Mr. Matheis' deep appreciation for the soulful wellspring from which the best of this music surges — as well as for the contagiously emotive form itself — this program intersperses a mix of probing, thoughtful commentary and evocative anecdotes with excellent music selections, including a number of surprises…There is enough cogent explanation of sources, social context, technique and evolution here to guide the uninitiated while enriching the experience for blues cognoscenti as well.  Equally gratifying, with strong production values, the program delivers this powerful music with a vibrant presence throughout."
-Procter Lippincott
Former music editor at Scholastic Magazines , and music writer for Down Beat, The Village Voice and Newsday, among others

---
RADIO PROJECTS
Independent Programmer- Deutschlandradio (German NPR) 2009


To be aired at 11 PM Dec. 26 to 27, 2009.  A program for the series "Lange Nacht", a three-hour long autobiographical radio-documentary special about emigrating to America.

Specialty Programmer & Host 2005-2006
WVKR 91.3 FM, Poughkeepsie, New York
Host of "Bon-Ton Roulet", an eclectic roots program featuring predominately acoustic blues. In 2006 I stopped the program due to illness.
Specialty Programmer & Host 1997-2005
WKZE 98.1 FM/1020 AM , Sharon Connecticut, beaming to the tri-state region of Connecticut -Massachusetts-New York.
Roots & Blues expert programming, with a wide-ranging, eclectic format. Two very popular programs: "Frank's Picks" aired every Friday for 8 years from 7 to 10 PM. The "Blues Show" aired from Jan. 2004 to March 2005 and featured all types of blues, old, new, acoustic, electric, etc. After years of helping that station build a listening audience, in the end it was like fattening frogs for snakes. There were many triumphs and great memories, but also a failure:  the regret of not having fully understood  "the scorn, diminishments and petty subterfuge from a few jealous rivals" within the station. 
Independent Programmer- Deutschlandradio (German NPR) 1999
Produced a blues series entitled as a guest of the syndicated show "Musik am Morgen". Six segments aired in the German language. Produced a three-hour documentary as a feature of the popular "Lange Nacht" program. German special version of the documentary "I Wish I was in Heaven Sitting Down". "And also "American Folk- from Hawaii to Quebec" – a three hour exploration of American roots music. These programs aired nationwide on 80 German NPR stations.
The English version of the blues documentary "I Wish I was in Heaven Sitting Down" aired on:
• Martin "Lester" Dunstan- "Lester" presents "JuzBlooz" 3WAY FM 100.9 MHz, Warrnambool, Australia – May 30 to July 4, 2000
• Geoff Pegler's BluesBeat- FM 89.3 Victor Harbor, 94.7 Strathalbyn, 88.3 Yankalilla S.A.; and "The Sound of the Fleurieu" FM 106.7 Mildura, 90.7 Robinvale & Wentworth Vic, 87.8 Coomealla Nsw. Australia – April 22- May 27, 2000
• KCCK-FM, Cedar Rapids, Iowa- October 1999
• WKZE- FM, 98.1 – January 1999, replayed in January 2001
Guest Programmer: Slovenian National Radio 1998
"A Musical Postcard from America" with Slovenian journalist and motorcyclist Benka Pulko.
RADIO AWARDS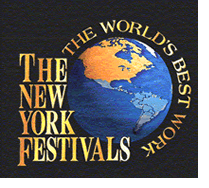 Communicator Award of Excellence – Best Documentary 1999
"I Wish I Was in Heaven Sitting Down" a documentary about the Mississippi Blues.
Communicator Award of Excellence – Best Documentary 2001
"Hey, where is Django Playing?" a biographical documentary about Gypsy Jazz guitarist Django Reinhardt.
New York Festivals 2003 – Best International Documentary
"American Folk Music from Hawaii to Quebec" in German for German NPR.
MUSIC WRITING
Currently Publisher of www.thecountryblues.com and Contributing Writer to Living Blues magazine – associated with the University of Mississippi's Center for the Study of Southern Culture.
Formerly:
• Folker major German music magazine covering folk and world music. Occasional contributing blues columnist.
• Contributing writer to Blues Access, one of the most respected US blues magazines. (Unfortunately, Blues Access folded in January 2002.)
• Occasional Contributing Writer to Blues & Rhythm (UK), Sing-Out, The Music Matters Review, InsideOut, Fast Folk, The Artful Times, Dutchess Magazine, The Country and more.
• Former CD review columnist for Taconic Weekend, the arts & entertainment insert in a series of newspapers in the Hudson Valley, New York. Wrote more than 250 articles from 1996 to 2001. From 2001-2008 I contributed a series of articles entitled "Musical Musings".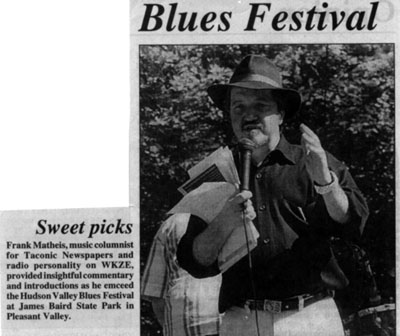 SHORT STORIES- FICTION
Published in "The Country" Magazine
"To Fill a Spinning Sky" October 2002
"Jesse Mae's Blues" July 2003
"Robert Johnson with a Cigarette" November 2007
"Knocked Out" August 2009